Air-cooled Showcase Series
风冷展示柜 Air-cooled Showcase Series 功能介绍 Features Introduction ◎ 先进的前吸风散热系统,更高效的使展示柜达到
咨询热线:0512-52360729
风冷展示柜 Air-cooled Showcase Series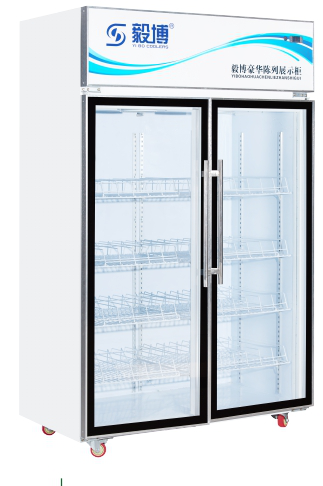 功能介绍 Features Introduction
◎ 先进的前吸风散热系统,更高效的使展示柜达到"快速制
冷"的效果。
◎ 采用高效压缩机,噪音低,安全,稳定。
◎ 全风冷设计,超大面积蒸发器,制冷快,保鲜展示效果
强。
◎ 铝合金无边框中空玻璃门,高效防雾,展示效果更清晰。
◎ 带滚轮及调节设计,移动使用方便。
◎ Advanced front suction cooling system makes more efficient
display cabinets to achieve "rapid cooling" effect.
◎ High-efficiency compressor, low noise, security, and stability.
◎ Air-cooled design, large area evaporator, cooling fast, showing the
effect of strong preservation.
◎ Hollow glass door design, efficient fog, showing the effect more
clearly.
◎ With wheels and adjustable design, mobile and easy to use.
细节展示 Detail shows

产品参数 Product Specifications